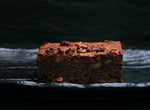 The first thing that would strike about the gluten-free, vegan black bean brownies is that they are filled with nutritious elements – fibers, omega 3, etc. And, the second thing that will leave an indelible mark is the incredible taste of these fudgy brownies – with crispy borders and a soft, chocolaty center, these are simply heavenly! And, the silver lining is that the process to make these black bean brownies is superbly simple with few assorted ingredients that are quite easily available. Remember that you need a blender to blend the mixture (you can use a food processor). The other thing that you will need is a muffin tin.
Preparation Time: 5 minutes
Time to Cook: 25 minutes
Total Time: 30 minutes
Yield: 12 brownies
Best served as dessert; these gluten-free brownies can be stocked in the refrigerator for a month.
Nutrition
Each brownie contain 113 calories, 18g carbs, 3g proteins, and 4.7g fat. 
Ingredients
Black beans – one can of 15 oz or about one three-by-four of a cup.

Flax eggs - 2 in number made from two tablespoons of flaxseed meal and six tablespoons of water.

Cocoa Powder – ¾ of a cup.

Coconut oil – 3 tablespoon

Sea Salt – ¼ teaspoon

Pure vanilla extract – 1 teaspoon

Monk fruit sweetener – half cup. 

Baking Powder – one and a half teaspoon.
Pecans, chocolate chips (vegan), and crushed walnuts are good considerations.
How to make Gluten-Free Vegan Black Bean Brownies?
Use few drops of oil to grease a standard 12-slot muffin pan. 

Keep the oven pre-heated to about 176-degrees C or 350-degrees F.

Use the food processor to make the flax eggs. Make a mixture of flax and water and pulse numerous times before allowing the mixture to rest.

After a few minutes, add all the other ingredients to the pulsed mixture except the toppings.

To make the mixture smooth, scrape the sides of the food processor well.

Now is the time to shift the batter to the muffin tin. Once the tins are filled, use a spoon to even out the top part. 

You need to add the toppings now. Simply sprinkle the toppings on the top of the batter.

Put the muffin tin in the oven and bake for about 25 minutes. The upper portion of the brownies should start to get dry.

After taking out from the oven, you need to let the brownies cool for half an hour.

The brownies can be refrigerated to run for a month or stored in an airtight container outside to finish within 3 to 4 days.
Tips
Ensure that the black beans are rinsed and drained before starting.

Grease the muffin pan lightly.

If you feel that the batter has a thick consistency,  you can add water and pulse once more to get the right consistency.  Remember, the mixture should not be runny.

When hot, the brownies are tender. Use a fork to remove the freshly-cooked brownies from the tin