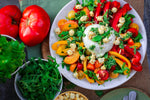 Forget everything you heard about sugar-free, taste-free, fun-free snacks specially made for diabetic folks. Here's what you need to know about snacking smart.
Snacking is often connected to unhealthy habits. We are here to break the myth. Snacking, especially for people with diabetes who have meals 4-6 times per day in small portions, is a break they take from the mundane. Snacks need not be off-limits if you are living with diabetes if your snack follows the thumb rules.
Rules for healthy snacking
     

High in fiber

     

High in protein

     

Nutrient-dense

     

Sources of healthy fats

     

Low in added sugars
Don't let poorly chosen snacks that are high in calories, saturated fat, sodium, and sugar can lead to weight gain, elevated blood pressure, and out-of-control blood glucose. Here's what you need to keep in mind while smart-snacking.
Snack smart with BSweet
 

Time your snacks

 

It's what on the inside that counts

 

Let dips not tempt you

 

Don't eat what you can't read
Whether you are diabetic or not, our body needs what it deserves. Respect your body and make healthy choices. BSweet came into being on this note - Everybody deserves tasty, healthy, simple snacks. We continue to look for the best ways to exceed our customer's expectations and put a smile on their face.
Let the snacking commence!